Automotive Sales Representative - New and Used Vehicles
June 04 2019,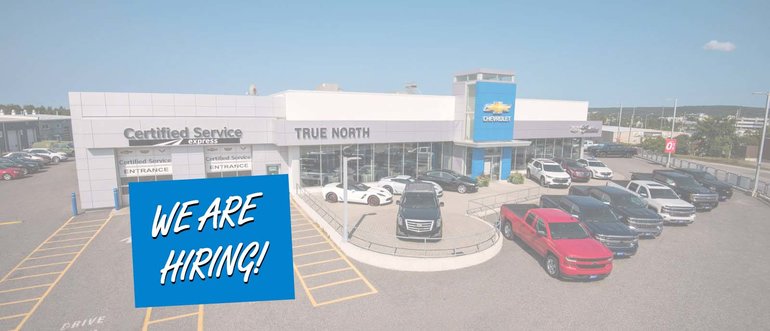 We are looking for a process driven sales performer with a positive attitude to work with our substantial data base of existing customers. Due to early retirement we have an opening for an outstanding candidate.
Established in 1996, True North Chevrolet Cadillac Ltd. is a family owned and operated General Motors dealership proudly serving the North Bay community and surrounding areas in our state of the art facility. At True North, our goal is to provide our customers with an outstanding customer experience and provide top-quality services and products. For over twenty years, we have expanded our inventory to fulfill the demand of new and used car shoppers from North Bay, Powassan, Callander, Astorville, Corbeil, Mattawa, Rutherglen, Redbridge, Thorne, Eldee, Temiscaming, Kipawa, Restoule, Port Loring, Noelville, Tilden Lake, Temagami, and Bonfield. We continuously update and expand our technical skills and equipment to provide quality maintenance service, repair, collision and refinish for our valued customers.
Automotive sales is a 'people business' that professionally assists clients through a very important purchase with integrity, enthusiasm and quality information. If you are career and community-minded and thoroughly enjoy working with people, you could be a successful Sales Professional. If you would like a dynamic team environment with career training, a company health plan and an opportunity to make above average income, our management team can work with you to achieve your goals.
Sales Process and Job Responsibilities:
Walk-in/Lot Traffic Leads
Phone Leads
Internet leads
Exceptional Customer Service - Greet/Rapport
Input information into Contact Management Program
Vehicle Selection/Presentation: Selecting the right vehicle for your customer and having current product knowledge is a critical step in the process.
Delivery
Follow-up
Training:
All Sales Consultants will be required to keep training current and may be required to participate in other sources of training periodically. Current relevant training will help you sell more vehicles.
Job Types:
Salary:
$60,000.00 to $105,000.00 /year
Work Experience/Education and Skills:
Minimum High School Diploma
Valid Driver's Licence
Proven Vehicle Sales Experience
Retail Automotive Sales - 2 years (Required)
Ontario Motor Vehicle Industry Council (OMVIC) Licence (Required)
Bilingual (An asset, but not required)
We Offer:
Professional Training Program
Career Builders Retirement Savings Plan
Group Health Plan
Opportunity to make above average income
Fun and friendly work environment
Find out more about working with us in the automotive industry. Submit your resume in person or online.
Be sure to check out our Facebook, Twitter, and Instagram pages (@TrueNorthChevLt)!
www.truenorthchev.com | www.truenorthcadillac.com