Administrator/Receptionist
July 25 2019,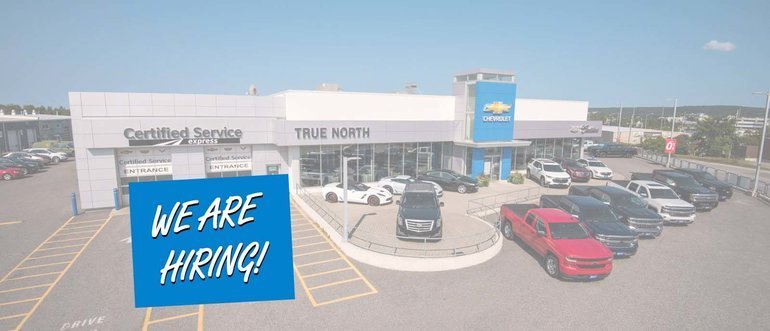 We are seeking a professional, process-driven Administrator/Receptionist with a positive attitude interested in contributing towards an amazing customer experience at our dealership.
Established in 1996, True North Chevrolet Cadillac Ltd. is a family owned and operated General Motors dealership proudly serving the North Bay community and surrounding areas in our state of the art facility. At True North, our goal is to provide our customers with an outstanding customer experience and provide top-quality services and products. For over twenty years, we have expanded our inventory to fulfill the demand of new and used car shoppers from North Bay, Powassan, Callander, Astorville, Corbeil, Mattawa, Rutherglen, Redbridge, Thorne, Eldee, Temiscaming, Kipawa, Restoule, Port Loring, Noelville, Tilden Lake, Temagami, and Bonfield. We continuously update and expand our technical skills and equipment to provide quality maintenance service, repair, collision and refinish for our valued customers.
Job Description:
Promptly and pleasantly answer incoming calls, transferring to multiple extensions and taking brief messages as required
Support Sales team and Financial Services Managers as required
Assist with New and Used Vehicle Administration
Assist with entering accounting office transactions into system
Maintaining guest book (signing people in/out)
Maintaining floor and phone traffic log in digital database
Filing daily: Warranty files, Service Repair Orders and Parts Invoices
Handling the mail/FedEx/Purolator
Assist in ordering office supplies
Setting up meeting rooms/events
Assist other departments as required
Maintaining and monitoring customer lounge
Work Experience/Education and Skills:
Minimum High School Diploma
Customer Service experience
Proficient with technology and computers
Excellent communication and organization skills
Valid Driver's License
Bilingual (An asset, but not required)
Job Type: Full-time
Salary: $31,200.00 /year
Find out more about working with us in the automotive industry. Submit your resume in person, online below, or by email (crm@truenorthchev.com).
Be sure to check out our Facebook, Twitter, and Instagram pages (@TrueNorthChevLt)!
www.truenorthchev.com | www.truenorthcadillac.com